In 1 Corinthians 1:10-13,18 Paul writes to the people in Corinth and it is his message that I base this letter to every radio station across America that plays uplifiting, spiritual, Christian, gospel music, etc. See these words from Paul and let it sink in deep:
10 I appeal to you, brothers and sisters,[a] in the name of our Lord Jesus Christ, that all of you agree with one another in what you say and that there be no divisions among you, but that you be perfectly united in mind and thought. 11 My brothers and sisters, some from Chloe's household have informed me that there are quarrels among you. 12 What I mean is this: One of you says, "I follow Paul"; another, "I follow Apollos"; another, "I follow Cephas[b]"; still another, "I follow Christ."
13 Is Christ divided?…
18 For the message of the cross is foolishness to those who are perishing, but to us who are being saved it is the power of God.
Over the past year I have become a frequent listener of Gospel and Contemporary Christian music. The separation in "genres", if you can call it that is saddening. Songs by gospel artists are often covered and played on the Contemporary Christian stations but the original artists is never played and Gospel stations continue to uplift new artist, never making mention of singers who are Contemporary Christian artists, it is time to bring all the good music together.  If Rihanna, Jay-Z, Katy Perry and Miley Cyrus can all be on the same station, all music lifting up the name of Jesus should be found on the same stations. We are followers of Christ and the separation of our stations makes us no different than the church in Corinth that claimed they were baptized by Apollos and Cephas. As followers of Christ we need to unify and bring the world together not continue to stay on our side of the line; this is the Christian station and over here is the Gospel station.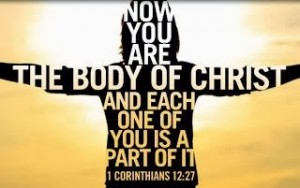 "Now you are the body of Christ and each one of you is a part of it." 1 Corinthians 12:27
Let's not just quote this on Sunday mornings, let's live this Monday through Sunday.